Today we took a walk around Mostar. It's one of those places on everybody's list in Bosnia and Herzegovina so we wanted to find out why. Yesterday after arriving late in the afternoon we took a walk around the central part of the city, along both sides of the river and down to the old town. We had dinner at one of the tourist restaurants in the old town as we couldn't find too much open around where we were staying. The meal was great however the waiter was pretty indifferent, almost bordering on rude. I don't know if it was because we could only say a few words in Bosnian or because we were foreigners but we started calling him Basil Fawlty.

As we were taking a few photos a man stopped in his car to introduce himself and ask us if we needed a guide. We flipped him off and headed into Mostar's Old Town  to the restaurant we'd eaten at last night for breakfast. They didn't have a breakfast menu so it was Ćevapčići, (skinless sausages, diced onion, tomato and eggplant sauce in a flat bun). The service was as good as the breakfast menu but after seeing the different way a local was greeted we realised this must be the way that this restaurants staff treat tourists. Although there's a big sign outside saying tourist restaurant they don't actually like tourists so after giving them a second go we quickly decided we would not return.
Private Walking Tour of Mostar
Outside the restaurant our mate (Alen), from the bridge was waiting for us and we just knew he wasn't gonna take no for an answer. The reality was we were the only tourists in town so we couldn't blame him for asking. After discussing the price of a private walking tour around the old town of Mostar, it seemed like a fair deal. This also meant as we were one on one gave us a chance to ask a few more questions plus as we had organised it directly with him we would not pay any booking fees (which is always a bonus)
History of Mostar
The city of Mostar gets its name from the Mostari, who were the guardians of the old bridge in the centre of the old town. The old bridge, Stari Most dates from 1566 when the old wooden bridge was replaced with a single arched stone bridge. It was quite a feat of engineering for the times and is still the finest example of Islamic engineering in the Balkans. The Ottoman rulers built the nearby crooked bridge in 1558 across the Radobolja River as a trial run.
Either side of Stari Most were gate houses where the gate keepers lived. These days one is home to Mostari Diving Club. During tourist season the local diving club dive from the bridge for tourists. As the bridge sits 25 metres above the Neretva River it's quite a spectacle, much like cliff diving. Tourists can dive off the bridge, however they must take a course and be assessed on the lower diving tower not far away. The Neretva River is also the source of three of the top brands of drinking water.
Local Crafts in Mostar

The old town straddles the Neretva River with lots of local craft shops lining the streets. The shops sell lots of handmade crafts, enamelware, and beautiful handmade copper items. All along the street you can watch artists at work, this way you can see the different stages of how they make their unique art work.  Of course there is also the usual things like tshirts, scarfs and knickknacks if you want any of those but you will find they are probably made else where.
Watch Your Step

The old town is paved with huge river stones which are quite slippery, especially if you are there when it is raining.  You really have to watch your step to make sure you do not fall. We were told that they were paved like this so that the women would always be watching their feet and not looking at men…which makes sense (I suppose)
While it looks stunning, crossing the old bridge of Stari Most can be a bit dangerous as the top of the bridge is curved and the stones are slippery. Back when it was constructed horses transported goods over the bridge and to stop them slipping on the steep surface, lines of raised stonework are set every 12 inches or so.
Stari Most
A stone on the end of old Stari Most bridge drew our attention with the words "Remember 1993". This is to remember the day that the bridge fell down during the Bosnian War. In November 1993, a HVO tank started shelling the bridge and eventually the bridge collapsed. So while the bridge you see now looks old it is actually a replica Stari Most bridge. Rebuilt in 2004 with €7 million aid from the EU to the exact dimensions of the original.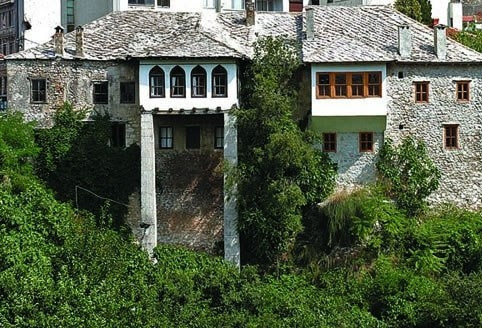 Thankfully, many old buildings which date back hundreds of years did survive the war, Bišćevića Kuća house from 1635, the 16th century Hamam which is now a museum and the Koski Mehmed-Pašina Mosque from 1617. along with a few other grand old houses and mosques.
So while there is plenty to see and learn in Mostar, Alen told us while tourists have once again started returning,they are mostly part of a day trip from Dubrovnik or Split and not many actually stay in the city.
Alen, explained to  us how prior to the war,  Mostar was separated into three roughly equal sized communities of Bosnian-Croats, Bosniaks and Bosnian-Serbs. Everybody lived reasonably peacefully together for many generations.
In 1992 when the Serbian Army invaded they lay siege to Mostar, firing tank shells and mortar rounds on the city below, this saw all residents, no matter their cultural background, fighting together to save their city. Many people were killed during this time, including Alen's father and Alen himself was injured by shrapnel.
In 1993 the city was once again under siege, this time from their former allies the Croatian Army.
After The War
After the war the community divided with Bosnian-Croats moving to the eastern side of the city and the Bosniaks on the other side of the city. These days unemployment in Mostar is about 70% and like most of the Balkan countries young people leave in search of better job prospects elsewhere in Europe.
Walking around the city there are constant reminders of the war which is so different to other places where we have visited that were involved. Bullet scarred buildings, bombed out grand old buildings with keep out signs, buildings with almost perfectly round holes where tank rounds passed through before exploding and cemeteries…. there are so many cemeteries and each has similar dates, reflecting the losses of so many.
The mixed Muslim and Christian cemetery in the east of the city all have 1992 and the one near the old city mosque 1993. It's quite confronting realising that people of our own age were killed in 92-93, this was the time when we were having children. It just makes you think how lucky you are to be born in a safe country.

It was interesting talking to Alen and getting his view of Mostar. He was 14 when the war started, was injured by shrapnel, lost his father so it could be expected that he'd be bitter against other ethnic groups of the community. Like many people he's come to the realisation that there are no winners in war just survivors. Although he told us his story talking about the war is frowned upon in Bosnia as it brings up too many bad memories for many people. The clean up after the war in Croatia has been so thorough that it's almost impossible to see the scars of the war but in Mostar the scars are everywhere, both in the buildings and the people.
These days the huge Catholic Church is the border between the Muslim Bosniaks and the Catholic Bosnian-Croats. The eastern side of town is home to a large tree lined promenade lined with beautiful old buildings, some still bombed out.
In the park is a reminder to the old Yugoslavia, yes a Bruce Lee statue. During communism Bruce Lee became a cult figure. Apart from the old buildings there's also lots of fairly new buildings with bars and outdoor cafe's filled with young people.

On the east side not far from the cultural centre is the Partisan monument. We'd seen a Partisan Monument near Rijecka in Croatia and were interested to see this one. It was built in 1965 to honour the Yugoslav Partisans of Mostar, killed in WW II. It's described as "a unique monument in the urban scale of the city of Mostar, and is of particular ambient value". Well it may well have been back in 1965 but these days it's a disgrace.

The Partisan Monument was bombed during the war and left overgrown. It was cleaned up in 2005 but since then has become neglected, covered in smashed bottles, lots of rubbish, and racist vandalism. A lot of the headstones have been smashed recently. Despite being named a National Treasure of Bosnia and Herzegovina in 2006, in 2016 it's a national disgrace. It's quite amazing that people in the two housing blocks which flank it aren't outraged at its state of neglect.
After returning to the coffee strip we sat for ages and tried to make sense of the systematic neglect of the monument. It's something we just can't get our heads around knowing the outcry if a War Memorial at home was even slightly damaged by a vandal. It was heartbreaking to know these young men dies for their homelands and now were forgotten and their memory decimated.

We returned to the old city and walked around the west side of the city. As it was Friday it's prayer day and it's interesting how this side of the city has a quite different culture to across the river. There's a real old feel about this side of the city lots of old mosques, women in headscarfs, and old men in berets drinking coffee in street side cafe's.
/We spotted a young boy busking in the street near a Mosque. He was singing his heart out hoping those going to the Mosque would spare a coin or two. It made us wonder why he wasn't at school but what would his future be in the current 70% unemployment.
We retraced our footsteps to a restaurant we'd passed earlier and ended up at Restoran Harmonija. It was late in the day, but when we asked if they were open we were ushered inside with a "please come". The waiter was so friendly, suggesting a tray of Bosnian specialties for lunch. Soon a massive tray of čevapi, marinated steaks, chicken stuffed with smoked sausage, special bread and lots of other goodies. It was a great meal and way too much for the two of us.
On our way home not far from our apartment a statue piqued our curiosity. Aleksa Šantić was a Bosnian Serb poet and editor-in-chief of the local paper Zora. Not far away is another statue called Emina. She was the female focus of a poem he wrote which has become a Bosnian folk song favourite.
On our second day in Mostar the weather turned bad so armed with an umbrella and a pack of cards we headed to Restoran Harmonija for breakfast. The staff were so nice that it became our hangout spot as we waited for the sun to come out whilst playing cards.
Late in the day the sun finally came out so we took a walk around the southern parts of the city before heading back to the apartment.

Contemplating on the last two days in Mostar we still are unsure about the place. There's no doubt that Stari Most and the old town are beautiful. On a whole most people were friendly and the family we stayed with were fabulous.
It's hard to imagine that Mostar could survive as a tourist destination with just a few hour stopover for bus tours. Personally we think it's a place where, after a tour of the old city, the old buildings, mosque, or church, just find a nice restaurant and enjoy a meal, a coffee or a drink. There's a lot to contemplate about Mostar so taking it slowly is the real key to enjoying Mostar. Returning to explore more of Bosnia and Herzegovina is now on our plans for next year.
Tomorrow we head to Montenegro via Croatia to catch up with a mate. He's invited us for lunch and in the Balkans you cannot visit without being fed.
Please follow and like us: