After our week near Lake Attersee housesitting it was time to hit the road again, tonight's destination is Kempten in Bavaria. We had a really great time exploring the Sound of Music countryside. It was also nice catching up with fellow Australian Winston Morrison. He's travelling around Europe for three months on a Honda ST 1100 Pan European. As he was passing Salzburg on his way north we caught up for a barbecue.
Attersee to Kempten
Our plan today is to ride from  Attersee to Kempton as we make our way across southern Germany towards Freiburg to meet up with friends.
The initial part of the ride took us towards Munich on the autobahn before detouring onto smaller roads. The ride was surprisingly easy and we rode through some beautiful countryside. After a few days of rain, the farmers were back out cutting hay at a frenetic pace. We rode through many miles of corn, wheat, barley and hops before arriving in Kempton in the early afternoon. Just by pure luck, we picked a hotel right in the heart of the city. We had managed to get a good price at Der Fuerstenhof,  a traditional Bavarian hotel decorated in an old style with lots of Bavarian pictures. It was really quaint.
Looking for somewhere to stay? Look for the best prices here!

We picked up the Enjoy Kempton brochure from the hotel and were quite surprised with its content and layout. The brochure contained a bit of a speil about the history of the city, events highlights, and feel good tips. It also included a map of Kempton with two tours of the city, of one hour duration and the other 45 mins. What we really liked was the events highlights and feel good tips. They were really great.
Rathaus (Town Hall)
Using the brochure we started our tour from the Rathaus (Town Hall) not far from the hotel. The Rathaus dates from 1474 and is built in the traditional Bavarian style with a stepped facade. Throughout Bavaria, many of the older buildings have similar facades. It has three towers on the front topped with hexagonal domes, which made it quite unique. The front stairs were lined with flower boxes overflowing with annuals with purple flowers contrasting against the white of the town hall. It truly looked spectacular.
Around the Rathausplatz, the old market street was lined with buildings dating from the 17the through to the 20th century. There were various types of architecture on display including baroque and rococo styles from the 18th century.
St Mang Church
The old market street led us to St Mang Church which dates from 1428. St Mang's church is quite simple with just a long nave and an aisle. The bell tower stands off to the rear. Inside it's built in a rococo style with gothic arches, white and grey plasterwork on the ceiling, and gilded highlights.
Interestingly the aisle is lined with family boxed seating. It also has a second floor attached which would house the choir and separate the higher social status. Now we've seen a lot of churches and we get a bit ho-hum about them after a while but the beauty of St Mang's really took us by surprise.
In the square attached to St Mangs stands an Art Noveau Fountain. It was built in 1905 and features children astride 4 different animals, doe, stag, alpine goat, and unicorn. Looking closely we realised the children had feet of fish, goats, and horses. It's quite a fascinating fountain for as you look closer more detail is revealed.
Not far from St Mang's we reached Ankertôrle the only remaining town gate. It was quite fascinating seeing the Bavarian style of architecture used in this entrance. It certainly is different from other countries. Wandering through the city we spotted a few old medieval Fachwerk houses and buildings. We just couldn't believe that once again just by dumb luck we'd stumbled upon a beautiful place, not on the normal tourist route.
St Lorenz Basilica

Following the guide, we walked through the central business area before eventually arriving at St Lorenz Basilica and Residence. The Residence was the former home of Prince Bishops and Benedictine monks. It's quite obvious that the prince-bishops had enormous wealth and power. The two-storey baroque palace covers quite a large area, almost a complete city block.

Nearby the St Lorenz Basilica stands atop a small mound. The Basilica dates from the mid-1600's and is finished in baroque style. The double tower facade topped with domes were added in 1900. As we went to enter we realised that a church service was underway. It was a good enough excuse to stop for a beer and a meal at a nearby hotel. A waiter arrived dressed in lederhosen to take our order. It was a cracking day to be out enjoying the sun, a beer and a schnitzel.
Hofgarten(Court Garden) and Orangery

After our meal we continued our tour through the city, visiting the Hofgarten(Court Garden) and Orangery. It had a lovely garden laid out in front of the Orangery.
Mühlbachquartier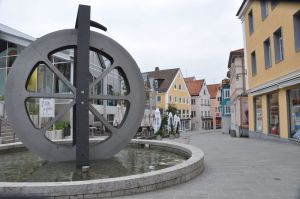 The last visit on our map was Mühlbachquartier, the former mill area which once had a mill pond and watermill. In the centre, a small water wheel is a feature in a fountain and a small trickle of water still runs down the centre of the street.

As we were walking back to the hotel we were spotted a dozen cars in convoy blowing heir horns and waving Italian flags. Obviously, Italy had won their UEFA Euro 2016 round. They continued around the city centre blowing their horns as we headed towards Rathausplatz. An Italian restaurant had set up a big screen TV outside for UEFA, so we stopped to watch the England-Iceland game.
As we were watching the game another procession of cars filed past blowing their horns. This time they were waving Portuguese flags. It seems there must be a few Italians and Portuguese in the city.
Although there were no English or Icelandic people in the restaurant, it seemed the whole crowd were supporting Iceland to beat England. Every time Iceland would go close to scoring they'd be shouting and cheering. When Iceland put one in the net the whole restaurant erupted. It was pretty tense when England scored an equaliser but they were on their feet when Iceland scored the winning goal. It seems everyone was Icelandic tonight.
The sounds of the Icelandic crowd slow clapping their team after their victory really echoed around the Rathausplatz. It almost felt like we were in the stadium.
A night out watching the UEFA game was a nice way to end the day. Tomorrow we head to Freiburg to catch up with some more of our Couchsurfing friends who stayed with us in Australia. We're looking forward to it.
All our posts may contain affiliate links we do receive a small payment if you buy from them but you will not be charged more for doing so. This helps us keep the website going for your enjoyment. You can view our Privacy Policy here.
Please follow and like us: